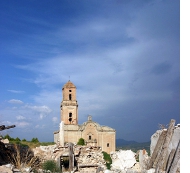 The working groups of the Department of Education and the Democratic Memorial (DEMD groups) promote and disseminate historical memory issues in the classroom.
One of the objectives of the DEMD groups in Catalonia is to exchange ideas and experiences.
One of the fundamental places of memory of the battle of the Ebro is the Poble Vell of Corbera d'Ebre, the recovery of memory has been possible thanks to the work of people from various disciplines, as well as the support of public and private institutions.
The initiative to organize meetings of these characteristics and to know spaces of memory of Catalonia arose in the course of the last V Day of Didactic Experiences of Historical Memory that took place in the Democratic Memorial on July 2, 2019.
Objectives:

1. Encourage interaction between historical memory entities such as COMEBE, DEMD-Ebre and Associació Poble Vell.

2. Establish connections between different DEMD groups.

3. Establish links between the people who make up the DEMD-Ebre itself, in order to expand and intensify its activities.

4. Get to know historically significant environments such as Poble Vell de Corbera or Cota 402.

5. Note that the work of memory must be a task in interdisciplinary teams and from the institutions as a whole.