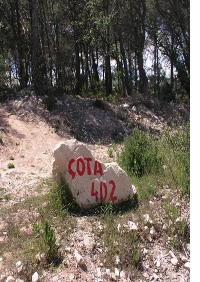 In "cotas" such as 480, 500, 510, 496, 477, 371, 377, 378, 356, 426 (in the Vilaverd Valley), 402 .... and others, we find hundreds of kilometers of trenches with elements of this type of fortifications: shooters, shelters, command post . Infrastructures that have been buried over the years.
Elevations such as the 287 that was defended by the 50th Battalion of the XIII Brigade of the 35th Division, known as the Mickiewicz Battalion, which integrated the Polish brigades. Or the Cucut area where the international brigades such as the Marseillaise and Garibaldi fought. Historic fortifications such as the "Punta del Cucut" (defended by the 45th International Division), the "Pila", "Malees", Anís hill or the Coso (elevations 350 and 341), cannot be forgotten.
These hills are not just geographical slopes, they are part of history. Each hill, each elevation, is a fortress built by Republican troops to prevent the advance of Franco's troops. Places that in battle and with the passage of days, become immense mass graves. Survivors take refuge in miles of trenches and small rock-cut shelters that can still be seen and touched.
The "Cota" 402, so called in military jargon for the fact of being at 402 meters above sea level, is a recently recovered space, an area articulated around a hill north of Corbera de Ebro that served as the command post of the 35th Division of the People's Army of the Republic during the first days of the Battle of the Ebro, when it was about to conquer Gandesa.
We can visit the hundreds of meters of trenches recovered while enjoying unbeatable views of the battlefield and the landscape of Terra Alta, with the mosaic of traditional crops of vine and olive, the silhouettes of the towns of Gandesa and Corbera de Ebro and the Sierras de Cavalls, Pàndols and the Ports.
The surface of the ground oozes history, but only for those who want to see it.